As we plummet into the third lockdown in less than 12 months, readers continue to turn to digital media publications. With printed media's immediate future looking unsustainably bleak, and ads failing to yield previous levels of income thanks to privacy and data concerns, it's time to look at alternative revenue streams. Say hello to the paywall.
It's not new, but right now, it is an invaluable investment that your news or content website needs.
Did Covid kill ad revenue?
Pre-covid, ads were beginning to fall short in terms of revenue. Readers were already increasingly sourcing breaking news and information through social media outlets. Local newspapers had all but lost local advertising investors. The traditional long-read digital article or printed paper was fast becoming a ritual for the few, no longer in demand by the many.
Though ads had been steadily declining, many publishers were not quick to turn to paywalls. Those who did not employ these subscription models watched as to whether it worked for others while waiting for other revenue streams to reveal themselves in the meantime. Afterall, why take the risk of losing readers when it might not be the best investment? Then Covid hit.
As the rest of the world coming to a halt, ad revenue spends began declining dramatically. Ad revenue "fell by a median of 42% in the second quarter from a year earlier." But this was preceded by already declining revenue. By Q4 2019, advertising revenue had declined by 6.4% on the previous year.
In the midst of declining ad revenue, those offering subscription services through paywalls are reaping the rewards. B2C publishers saw a 22% increase in subscription revenue in the same period. Additionally, B2B publishers saw a 10% increase.
What's the problem with ads?
To understand the decline in ad revenue, we need to separate the issue into two periods; pre-Covid and now.
One of the biggest hits to the media advertising revenue stream came from the ever dominant digital advertisers Google and Facebook. In 2017, Facebook alone made $39 billion in advertising revenue. Within 6 months, they attained over 1 million new advertising customers; small and medium-sized businesses. By 2019, they had attracted 30-80 million small and medium businesses globally.
This issue alone has starved local and regional media publishers of a valuable revenue stream. By January 2020, we saw the social media digital advertising monopoly growing evermore, harming even the biggest media publishers. By this time, some of the world's most respected publishers had instructed their own subscription services. Paywalls and calls for donations began popping up everywhere. The New York Times, The Wall Street Journal, New York Magazine. However, this tactic slowly began to pay off, slowly offsetting the impact of the lack of ad revenue. Then Covid changed the ad game practically overnight.
With increased readership with individuals looking to search for information, you'd like to think that ad spend had increased. Yet, despite promising readership reports, ads have failed to fuel revenue uptake. Why? Because advertisers have blacklisted their adverts from appearing next to articles that refer to Covid-19, even the positive ones.
Adding salt to the already sore wound, advertisers continued to run ads across social media, despite any reference to the coronavirus pandemic. Therefore, with digital advertisers continuing to favour the social media outlets, paywalls and subscription models become not just important but essential for digital publishers.
What is a paywall?
A paywall is a tool that restricts readers from viewing an article if they do not have a subscription. You'll likely have seen one of these when trying to read an article on The Times or The Washington Post. They look like this:
Depending on which website you head to, you may experience a different kind of paywall. There are three different types of paywalls, but the most popular options are hard paywalls, metered paywalls and dynamic paywalls.
Hard Paywall
If you've clicked on an article from The Wall Street Journal or Financial Times after a Google search or social media link in recent years, you'll have been met with their hard paywall. Without an active subscription, readers simply cannot access the content.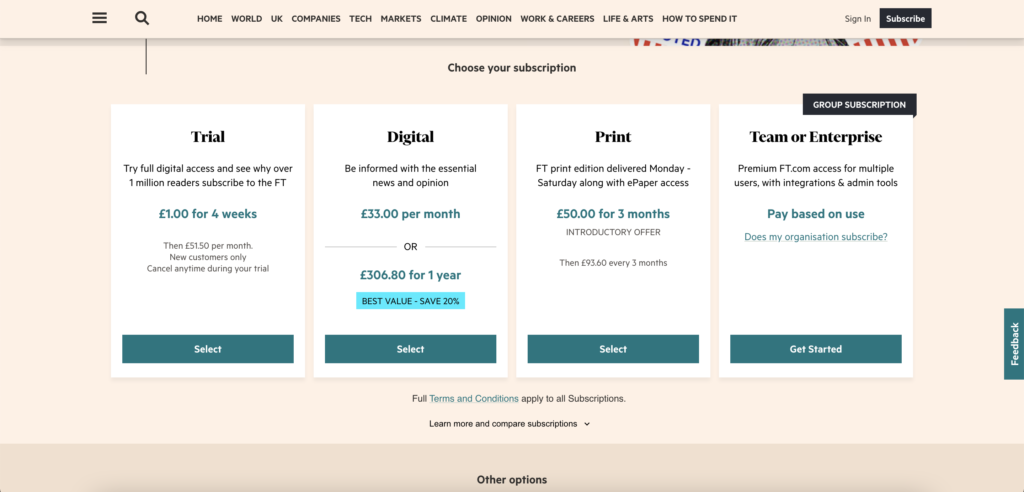 Is a hard paywall right for us?
The benefit of a hard paywall is that it is the hardest paywall to get around. There are no free articles per month to temper the reader with meaning digitally savvy readers cannot trick the system into revealing the article. Therefore, loyal readers will be keen to subscribe.

However, attracting new readers will become a challenge. Without an article introduction to intrigue them with or free content which displays the quality of your journalism, they'll likely click away in favour of publishers covering the same topics whilst using dynamic or metered paywalls.
Metered Paywall
With a headline and introduction to tempt in wannabe readers, metered paywalls, as famously used by The New York Times, allow readers to enjoy a handful of articles per month before subscribing.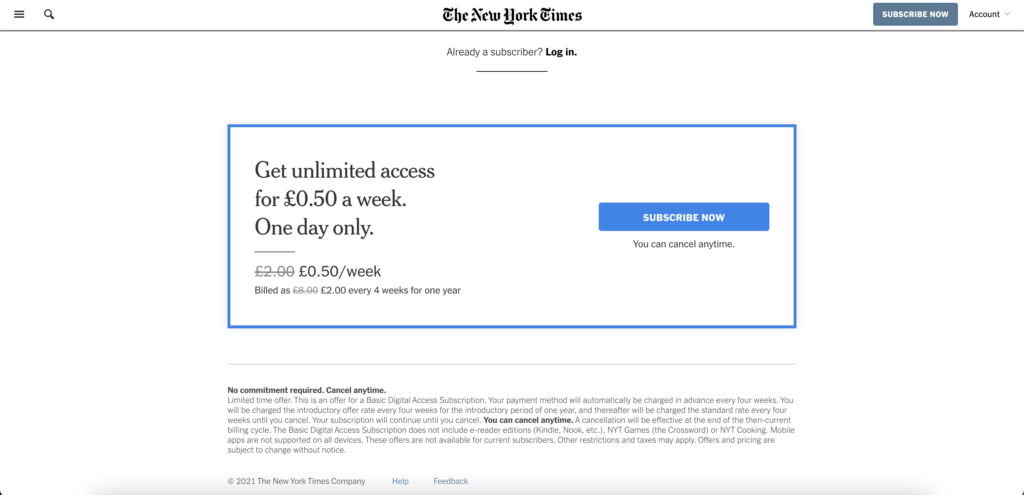 Is a metered paywall right for us?
This tactic will be sure to hook in readers. By giving them a taste of your insights, there is a higher chance of securing long-term subscription.
Despite the upsides, there are reasons to approach with caution. Metered paywalls need to be consistently maintained to ensure readers are not bypassing your paywall by resetting their history or using bypass tools.
Dynamic Paywall
Using data, dynamic paywalls use a pop-up or banner to promote their subscription services. Offering additional and exclusive benefits, such as subscriber-only events and newsletters.
Digital-first publishing houses like New York Magazine offer unlimited access to their plethora of publications as a subscription option. Though, without restricting content in the process, loyal readers can continue enjoying the free content.
Is a dynamic paywall right for us?
The beauty of a dynamic paywall is that it allows readers to see the advertisements for a subscription without being bombarded with them. Using website behaviour data, dynamic paywalls will look to understand who would be most likely to subscribe and target those individuals accordingly.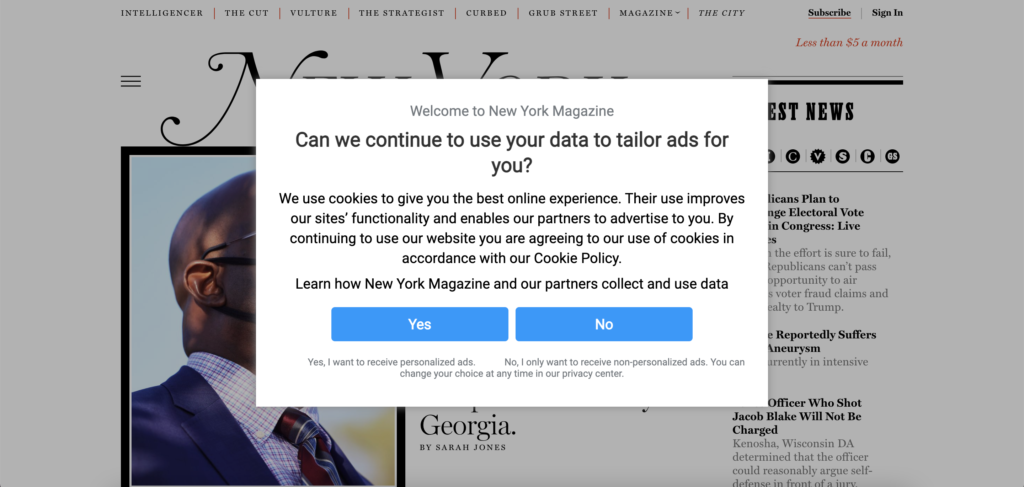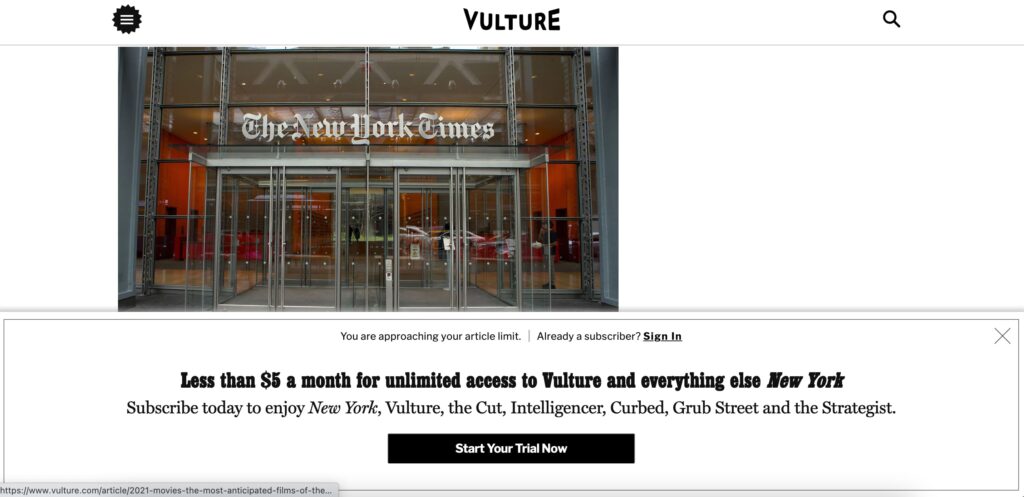 By highlighting and targeting these people, the ads and banners are subdued for infrequent visitors as to not annoy them and deter them from returning.
However, dynamic paywalls require the data analytic tools allowance of cookies and tracking tools to best understand who to target. Therefore, you'll be gambling with the potential that some readers will be using VPNs to hide their data, or simply not consenting.
Case Study: Prospect News
In the wake of declining ad revenue and print sales dwindling in favour of their website, Prospect News came to a similar halting point faced by today's publishers: how to monetise a digital audience without ads?
We developed a metering tool which allows readers to read up to 3 articles for free before being prompted to submit their data for retargeting to allow 7 more articles to become available.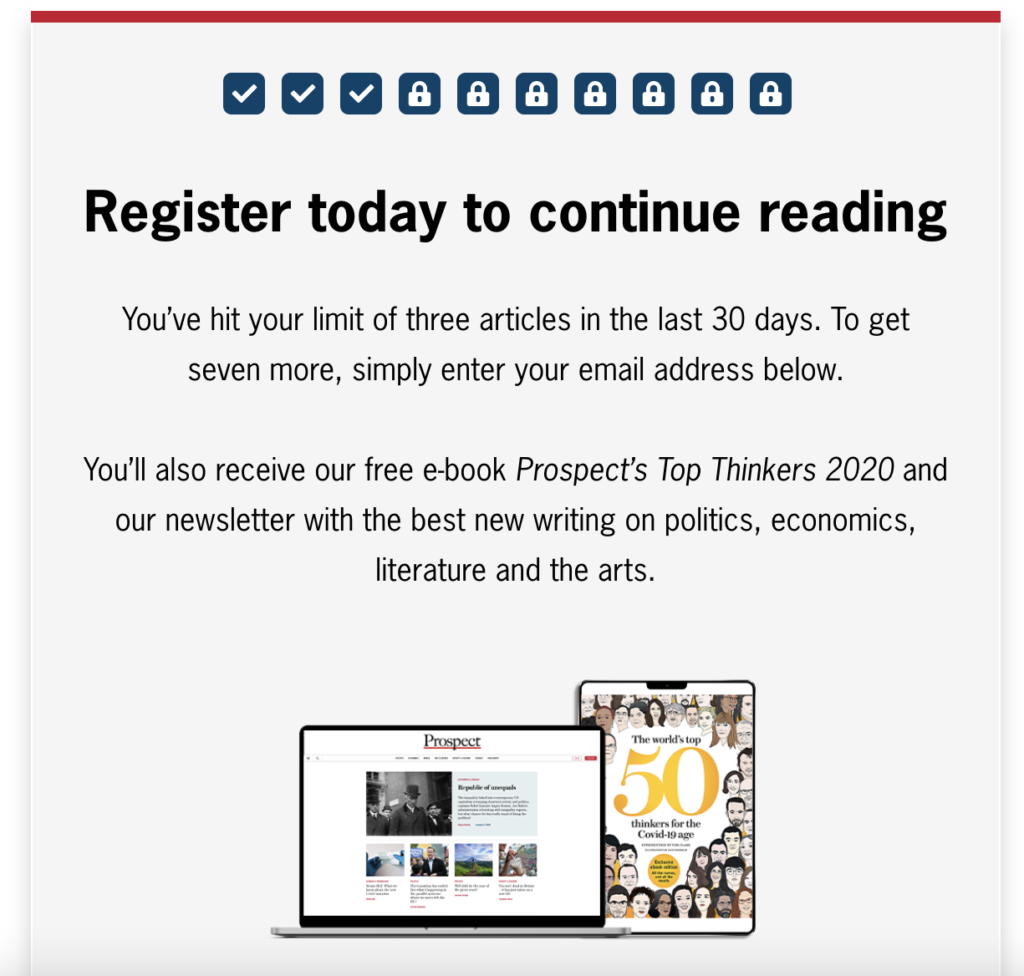 Sweetening the deal for the reader, we included a freebie download tool to encourage form submissions. Once the remaining 7 articles have been read, the paywall humbly prompts them to subscribe. To encourage readers to come back, we developed the tool to reset after 30 days.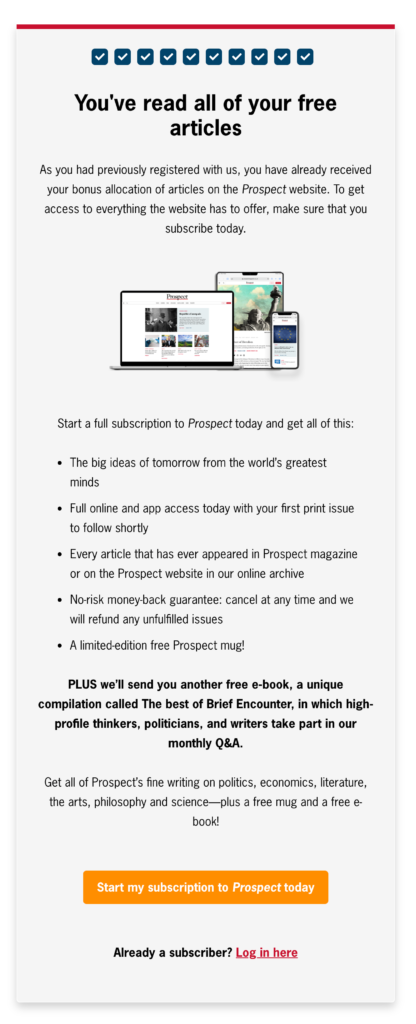 Are paywalls a long-term solution?
Whether you're a B2C or B2B news publisher, you'll need to take a serious interest in paywalls. It's undoubtedly going to be one of, if not the most, essential revenue streams in 2021. Thanks to Covid, the rise of the necessity of paywalls has only been amplified. In 2021, it's not enough to ask whether you should develop a paywall. It's essential to ask which one is best for you and how quickly you can implement it.
We specialise in building paywalls and monetising audiences for media companies and digital publishers. Fancy a chat over coffee to discuss your paywall requirements? The coffee is on us.