Recently Powered By Coffee had the privilege of being involved in BIMA's Digital Day programme seeing Stewart sent back to college (Woking) to give their sixth form IT students insight into digital careers and opportunities in the current I.T industry.
BIMA Digital Day is a highlight in many school calendars. BIMA connects agencies with schools so they can create a great day of collaboration and creativity. Usually, Agencies give a run through on what it's like to work in Digital. The aim is to give students ideas of what they might expect to do in their careers if they choose the I.T industry. Looking at what kinds of technology and impact their work could have on the world. After that, BIMA introduces some real world briefs from organisations trying to solve existing problems to get the students engaged with real life issues so they could try and come up with creative, digital solutions to these problems and get a taste of what agency life can be like.
On The Day
Stewart gave an hour long presentation highlighting some great digital work done by BIMA members, clips of what life is like inside a growing digital agency, and gave the students ideas on roles they cab expect to take in the digital work place from Account Management to Social Media Production. It's not all Pixels and Code some students were very glad to here.
Challenges this year were provided by Cancer Research, Standard Life and Tata Communications,
The students at Woking College worked together analysing the brief, formulating ideas, thinking about their target markets and making decisions on how best to reach an influential solution for those they where trying to help. They did great work and we were glad to see the presentations at the end of the day.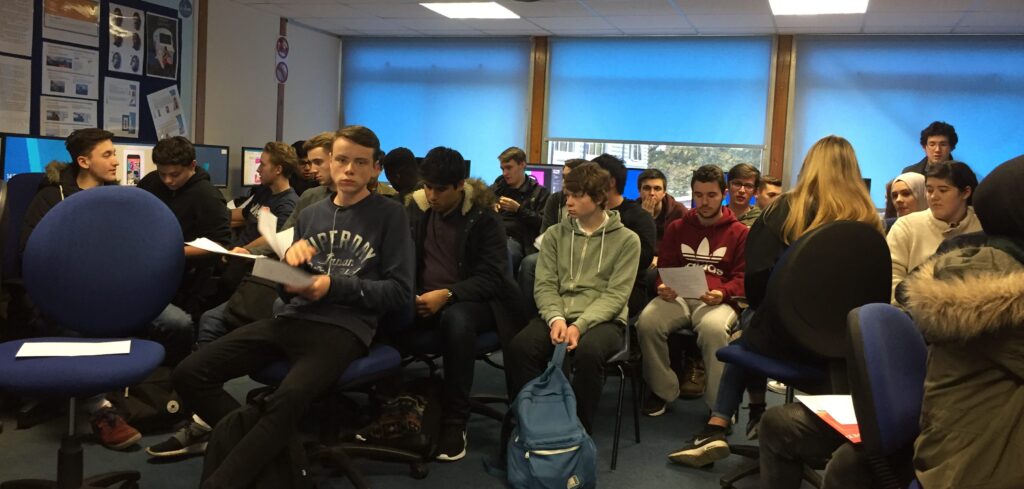 Stewart thought it was a great day and has a new found respect for teachers, it was exhausting.
We don't know how you stand up there and do it all day.